Thank you for considering Four Corners Volleyball Club! 
Here are just a few FAQs, but feel free to contact us anytime.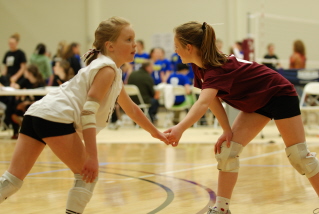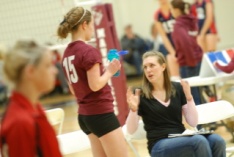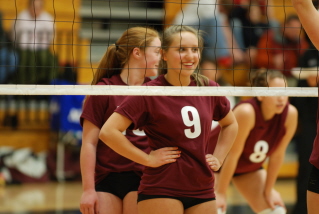 our mission statement
Four Corners Volleyball Club is a non-profit corporation whose mission is to provide for the young girls of the Four Corners area an opportunity to participate in quality, year-around volleyball. To enrich the youth volleyball experience by exposing them to competition against high quality players from throughout the region and coaching from quality coaching professionals. Finally, to expose these young athletes to the potential they possess in volleyball and to hopefully assist them to realize their dreams of a college experience that includes volleyball.
what is club volleyball?
Club volleyball is volleyball in the winter and spring of the year, supported by USAVolleyball, that provides student athletes the opportunity to compete in their schools off-season.  Our USAVolleyball Region is the Sun Country Region, including member club programs in Texas, New Mexico, and now, southwest Colorado.  Club volleyball is financially supported by the parents of the athletes.
who comprises the club staff?
Executive Director, Club Coaching Staff, Club Athletes, and Participating SafeSport Parents
All of our affiliated adult members are USAVolleyball Members, having passed required background checks, as scheduled by USAVolleyball.  All of our head coaches, clinicians, and assistant coaches are USAV IMPACT Certified, and SafeSport approved. FCVBC also partners with regional volleyball coaches at our high schools, colleges, and USAV programs. 
what is the time commitment to play club?
Team Practice Sessions are a required attendance commitment.  There are two team practice sessions per week: one on a week night, and the second practice on a Sunday afternoon. 
Optional, Monday or Tuesday Night Clinics in Durango and Farmington offer our members an optional third session per week.  Players from all teams mix it up to learn fundamentals, competitive team concepts, and next-level skill work. They also serve as a great "make up" session for any missed team practices. 
Tournament Schedules: Usually, 6-8 tournament events entail our club season, varying by team playing level: Development (novice), Regional (intermediate), Travel (advanced) January, 2018 - April, 2018. FCVBC does not operate regular season after April. Many of our club members are enrolled in smaller schools, and are often 2-3 sport athletes.  FCVBC works to end club season in April, to free up our kids for their spring school programs as much as possible. 
Team tournament schedules are of an "all in" philosophy, as our teams will partake of established event schedules January-April each season.  If any one player misses a tournament for any reason, there are no club fees adjustments. 
what does club cost?
FCVBC Club Fees fluctuate slightly every year, based on these factors: 1) facility rental fees, 2) tournament schedule selection, 3) tournament travel logistics and hospitality pricing, 4) addition of coaching staff and/or clinicians, 5) length of season, 6) apparel/gear pricing, etc. FCVBC tiers it's pricing based on age group and playing level. Here are some generalized estimates:
12-14U Girls Novice Level: 

$

700-900 est
14-18U Girls Regional Level: 

$

1000-1400 est
16-18U Girls Travel advanced) Level: 

$

1300-1800 
Pricing Model Includes: All Clinics, Practice Sessions, Tournament Entries, Coach Salary, Coach Travel, Player's Kit (backpack, water bottle, practice tshirt, warm up jacket and pant set), team volleyball equipment provided.
Pricing Model Excludes: Annual USAV Junior Membership, any/all travel expenses for player/family, competition jerseys/shorts on the "re-order years" (based on a 3-year purchasing cycle). 
updated 10/30/17 tmf